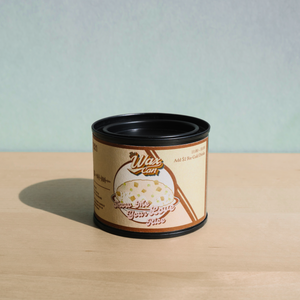 Show Me Your Love Rice | 粟米肉粒飯 手工香氛蠟燭
Regular price
$21.00
$21.00
Unit price
per
Free
shipping
to Hong Kong/Macau for order over HKD350.
Free shipping to other countries, refer to
here
for details.
Product Description
在很久之前有一位日本人在香港的茶餐廳點菜時,將栗米肉粒飯誤聽成Show me your love飯,從此這道菜便多了一份浪漫。在罐身上配上了茶餐廳特別的音效,送給另一半點燃起來送飯吃就可以時刻感受到你的心意!
A long time ago, a Japanese person in a Hong Kong-style cafe accidentally heard "Show me your love rice" instead of "Corned pork rice," giving this dish an added sense of romance. So, this year's Valentine's Day scent is themed around corned beef and rice, with special sound effects from the cafe included on the can, so that when you light it up and serve the food, your significant other can always feel your love. 
Product Details
氣味描述:甜粟米、泰國香米
燃燒時間:30 小時 (140g) / 20 小時 (100g)
主要成份:大豆蠟、椰子蠟、植物油
產地:香港手工製作
Scent description: Sweet corn, Thai jasmine rice
Burning time: 30 hours (140g) / 20 hours (100g)
Main ingredients: Soy wax, coconut wax, plant oil
Origin: Handmade in Hong Kong
How Does It Work
為了達到最佳使用效果並避免蠟燭中央出現凹陷,請燃點至蠟燭表面完全融化。
To achieve the best results and avoid the candle from sinking in the center, please burn until the surface of the candle is completely melted.
---