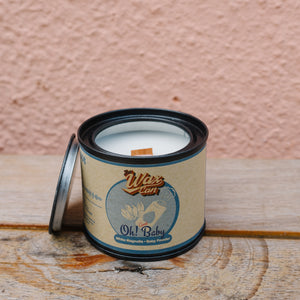 Oh! Good Baby | 噢! 乖BB 手工香氛蠟燭
Regular price
$18.00
$36.00
Unit price
per
Free
shipping
to Hong Kong/Macau for order over HKD350.
Free shipping to other countries, refer to
here
for details.
Product Description
Oh! Baby 系列有兩款氣味:Oh! Good Baby 及 Oh! Bad Baby。Good Baby 主要氣味是爽身粉,前調略帶一點白蘭花香,不會蓋過爽身粉的質感;而 Bad Baby 未燃燒時是 Good Baby的氣味,當燒了一段短時間後,BB的尿片味便會浮現上來。
The Oh! Baby series has two scents: Oh! Good Baby and Oh! Bad Baby. Good Baby's main scent is baby powder, with a slight hint of white flower in the top notes that does not overpower the powdery texture. On the other hand, Bad Baby initially smells the same as Good Baby, but after being burned for a short period of time, the scent of dirty diapers emerges. 
Product Details
氣味描述:白蘭花、爽身粉、沉香
燃點時間:55 小時 (260g) / 30 小時 (140g) / 20 小時 (100g)
主要成份:大豆蠟、椰子蠟、植物油
產地:香港手工製作
Scent description: white flower, baby powder, and oud wood.
Burning time: 55 hours (260g) / 30 hours (140g) / 20 hours (100g)
Main ingredients: Soy wax, coconut wax, plant oil
Origin: Handmade in Hong Kong
How Does It Work
為了達到最佳使用效果並避免蠟燭中央出現凹陷,請燃點至蠟燭表面完全融化。
To achieve the best results and avoid the candle from sinking in the center, please burn until the surface of the candle is completely melted.
---